Some smartphones in 2014 will come with improved audio, here's how it should sound
17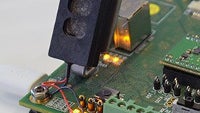 In 2013, phones like the HTC One really pushed the envelope when it comes to sound quality. The dual stereo speakers located on the front showed us that listening to music and just any other audio on a smartphone could be a much better experience. Others like Motorola followed up with such phones as the
Motorola Moto X
and the
Droid Ultra
. Even though these two devices feature a single speaker, there is a higher-voltage 9V audio chip (it's the TFA9890) driving sound and this is one of the things that allows it to come very close in quality to what you have on the
HTC One
.
Behind all this innovation in speaker quality is a company called NXP semiconductor. The latest Motorolas use 1 NXP-controlled speaker while the HTC One uses two of them, and they are already showing the future of smartphone audio.
The new audio tech that they are developing will likely arrive for 2014's early flagships and will introduce some slight, but noticeable improvements.
NXP is demonstrating what it will all sound like right now, so your ears can get a taste of it. The new chip TFA9895 audio chip will not rely on boosting voltage up - instead it will take care of delivering good sound at both maximum and minimum loudness.
To do this, it separately controls different frequency bands so when the vocals in a song get loud, there would be no need to quiet down other instruments as is currently the case. The difference will allegedly be noticed by the careful listener. A demonstration of the new technology follows right below.