Some iPhone 4S owners reporting "No SIM card installed" error messages
73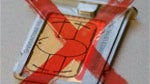 Back in mid-October an iPhone 4S owner posted a thread stating they were using their phone when it start producing SIM error messages, finally ending with a "
No SIM card installed
" message. Seventeen pages of responses later, this seems to be a reoccurring issue with no direct tie to any particular carrier or geographic location.
One site, Woo Servers, points out the iPhone 4 use micro-SIM rather than the mini-SIM form factor that was used in previous models. Woo Servers believes that the issue is directly related to a
design flaw of the eject mechanism
on the new SIM card tray. The blog post states that sometimes the eject mechanism touches the metal contacts on the SIM, creating a
short circuit
. It goes on to detailing ways to create a barrier with a non-conductive material, such as tape.
The Woo Servers blog post was originally posted back in July of 2010, obviously in reference to the previous model, the iPhone 4, and there has not been any word from Apple on this issue. Perhaps with the additional onslaught of iPhone 4S users experiencing the error as well, we will eventually hear from the creator itself.
source:
Apple Support Communities
&
Woo Servers
via
Engadget