Some Galaxy Nexus users reporting odd battery readings
77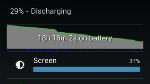 The rumors we had heard about the Samsung Galaxy Nexus having
very solid battery life
do seem to be true, many users are reporting a couple days of use without charging, but there are also reports of odd readings with the battery monitor.
There have been various reports that the battery monitor on the Nexus won't see much of a dip, but then will drop fairly quickly once it's past the first 20% of battery use. Additionally, the last 20% can often last a very long time. There have also been reports in the MoDaCo forums about large dips on the battery monitor overnight, as if the phone isn't going into sleep mode properly.
Of course, these are all unofficial reports, and don't even come from official Google support boards, but it does seem there is something wonky with the battery meter on the Nexus, or possibly the radio not sleeping properly. It will likely be fixed in an update, and it shouldn't stop you from getting a full day's use out of the Nexus even if the reading drops quickly.