Softbank won't let Sprint spend a fortune on Clearwire deal
17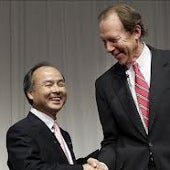 Yesterday we wrote that
Sprint is looking to acquire the remainder of Clearwire at a price of $2.90 per share
. While the proposal is said to be currently evaluated, it looks like the carrier won't be able to go much higher than that, in case the board of Clearwire doesn't see the offering as being tempting enough.
Reuters reports that Softbank, which is in the process of acquiring 70% of Sprint, isn't going to let the number 3 wireless carrier in the US spend more than $2.97 a share for Clearwire. Although there's yet to be any official statement on the matter, it might turn out that the price is not high enough, as a number of investors have reportedly said that a per-share price of $5 to $8 would be much more appreciated by Clearwire. While we're absolutely certain that this is so, we aren't convinced that Sprint would want to pay so much for a company that's been in the red for quite a while.
We'll see how the story will develop and will update you accordingly.
via:
PhoneScoop