Softbank acquires 70% of Sprint for $20.1 billion: facts and repercussions
50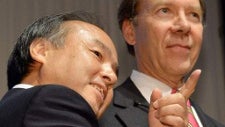 Sprint is saved. Japanese carrier Softbank is spending $20.1 billion and takes over 70% of the U.S. third-largest carrier with over 56 million subscribers. It is the world's third-largest by post-paid subscriber count, after Verizon and AT&T, of course.
So what does it mean? First, analysts wondering whether Sprint will go bankrupt or not can finally calm down - it's not. The carrier has been undergoing a tough transition under chief executive Dan Hesse, but a much needed one where Nextel customers are getting migrated and costs are being cut where they have to be.
This of course costs a lot of money. Sprint has made two large investments. One is the iPhone which it didn't have until 2011, a $15 billion investment that will start paying off only in 2014. The second one is 4G LTE, after 4G WiMAX failed to become the 4G technology of the future.
source: Softbank