Smartphone and tablet displays expected to improve hugely in 2014 with 'Quantum Dot' LCD tech
27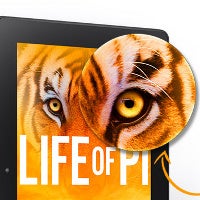 2014 is expected to bring us not only higher-resolution displays like the Quad HD 2560 x 1440-
pixel
screen rumored to come with phones like the
Samsung Galaxy S5
, but also dramatically improved colors. The culprit? A nascent 'quantum dots' LCD technology that we first saw in the Amazon Kindle Fire HDX 7-inch tablet last year. While the technology appeared on just one tablet last year, quantum dot displays are expected to become much more common in 2014, bringing a much needed improvement in smartphones and tablets, according to DisplayMate screen expert Raymond Soneira.
The problem with current LCD technology is that it uses white LED's with yellow phosphorus that produce broad light spectrum, which makes it hard to achieve nicely saturated colors. Quantum dots, in contrast, are capable of converting light from blue LEDs directly to produce highly saturated colors, similar to the ones in AMOLED displays. Even better, quantum dots allow precise tuning and calibration during the manufacturing process, which should increase the color accuracy.
The staggering difference can be best seen in a spectrum chart comparing a traditional LCD display (used in the iPad mini) to a
'quantum dot'
one (used in the Amazon Kindle Fire HDX 7).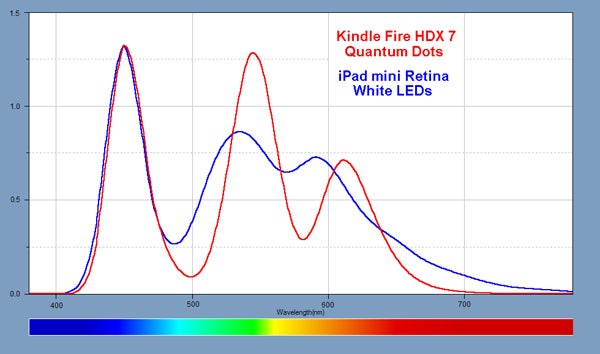 The new technology would also be instrumental in overcoming the narrow color gamut of devices like the iPad mini with Retina and the Microsoft Surface 2.
All in all, we can expect to see not just sharper screens on mobile devices in 2014, but more accurate and colorful ones. What's not to love about this? Feel free to also check out the slideshow right below showing other upcoming technologies that will improve our mobile screens soon.
source:
DisplayMate