Sleek and stylish Huawei Ascend P7 is announced
20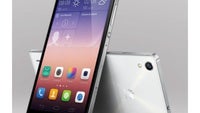 Right on cue, Huawei announced its newest Android smartphone, the sleek and stylish
Huawei Ascend P7
, at a press event in Paris. The handset is here to succeed last year's
Ascend P6
, formerly the world's slimmest smartphone, and even though the new model doesn't set a a new thinness record, it is still a pleasure to admire. Plus, there's quite a lot packed in its 0.25-inch (6.5-millimeter) body.
Like the P6, the Huawei Ascend P7 is built of premium materials – a metal rim surrounds its sides while the front and back are both made of Gorilla Glass 3. At the same time, it weighs only 124 grams, which makes it very light for its size. Speaking of size, a 5-inch in-cell LCD display graces the front of the Huawei Ascend P7. Its resolution is 1920 by 1080 pixels (445 ppi), which is the standard pixel count for a contemporary Android flagship.
Android 4.4.2 KitKat runs on the Huawei Ascend P7, but in a heavily customized form. Emotion UI 2.3, which is the name of Huawei's very own Android UI, spices up things quite a bit by adding support for UI themes, lock screen shortcuts, a bunch of new widgets, toggle buttons in the notification panel, and a lot more. One thing has been removed, however, whether we like it or not – the application drawer; each newly installed app gets its icon placed on a home screen instead. Feature-wise, there's a whole bunch of welcome goodies, including a Harassment Filter, which sounds like contact-blocking feature, Do Not Disturb mode, a built-in virus scanning solution, a power saving mode, and a notifications manager. Interestingly, Huawei has also thrown in an ad blocker, and we guess Google won't be happy about this since, you know, it makes money from ads.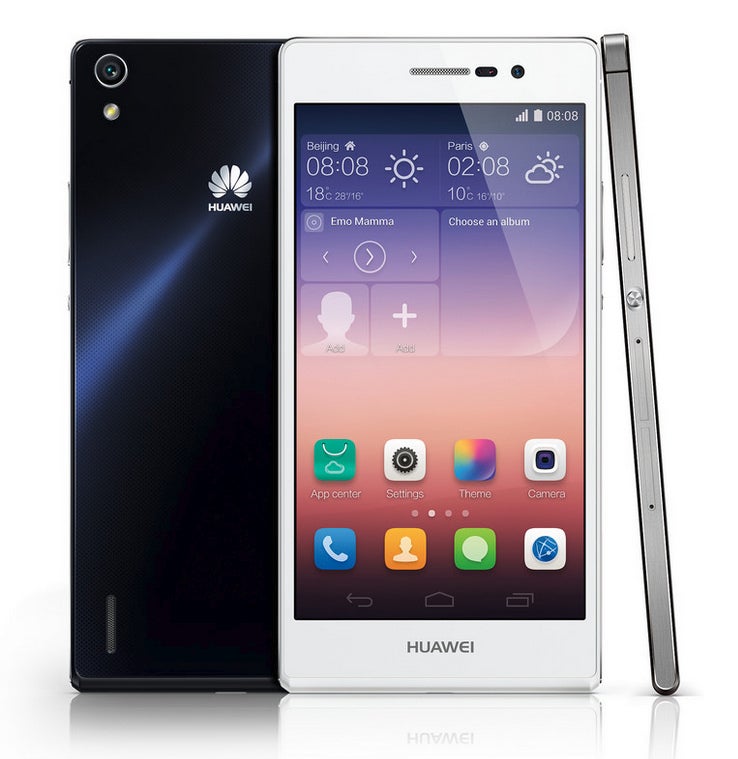 Under the hood of the Huawei Ascend P7 we find a HiSilicon Kirin 910 SoC with Mali 450 GPU and a quad-core CPU running at a maximum of 1.8GHz. Benchmarks show that the chip is a decent performer, but it can't quite match the output one would get from, let's say, a Snapdragon 801. In fact, the Ascend P7 should be about as capable as a Snapdragon 600-powered handset.
With 2GB of RAM on board, Huawei's handset should have no problems keeping a bunch of apps loaded in memory for smooth multitasking. On-board storage is limited to 16GB, but the microSD card slot should work with cards of at least 32GB.
On the back of the Huawei Ascend P7 resides a 13MP camera with LED flash. With its 4th generation Sony sensor, f2.0 aperture, and 5-element lens, the camera should be able to take pretty pictures, but we'll definitely have to test its performance before drawing a final verdict. An 8MP camera with a 5-element lens system is placed on the smartphone's front, featuring a peculiar-sounding feature called "Panorama Selfie".
Connectivity-wise, the Huawei Ascend P7 supports LTE at theoretical peak speeds of up to 150Mbps. And when LTE is not available, you'll be able to get online with the phone's HSPA+ radio instead. Wi-Fi, GPS, NFC, and Bluetooth 4.0 are all on board as well.
If you're wondering how large of a battery could Huawei fit into the Ascend P7, then here comes your answer. The lithium-polymer cell inside the device has a capacity of 2500mAh – nothing groundbreaking, but acceptable for a smartphone so thin. According to data from Huawei, the Ascend P7 can deliver up to 14 hours of talk-time on 3G. Stand-by time is rated at over 400 hours even when hooked up to a 4G network. 3.5 hours is the time needed to top-up the phone's battery from zero to 100 percent.
And that, ladies and gentlemen, is the Huawei Ascend P7. Overall, it is a great-looking smartphone with a high-quality feel, but with the processing power of a mid-range device. You'll have the chance to buy one in white, black, or pink, as long as its price of about 450 euro (~$626) isn't an issue.