Sixth-generation Apple iPod nano is no longer supported by Apple
7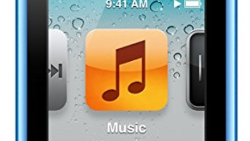 On August 30th, Apple officially placed the sixth-generation Apple iPod nano on its internal list of "vintage and obsolete products." In other words, the aforementioned device is no longer supported by Apple. A written memo to this effect has been sent to Apple Stores and authorized service centers. Apple released the product in September 2010 and stopped selling it two-years later. Typically Apple supports a discontinued item for an additional five years after it no longer is available, and that brings us to September 2017.
With its square design and small size, the sixth-generation iPod nano could be converted to an early "dumbed-down" version of the Apple Watch with the help of third party straps. This particular model removed the click wheel, video camera and a speaker from the fifth-generation variant. Instead, the newer unit carried a touchscreen, and the iPod Shuffle's clip helped attach it to the user's clothing.
In California, the state requires that Apple continue to provide service to the device through September 2019. If you live in the state and your sixth-gen iPod nano needs service, visit the Apple Store closest to you, or call AppleCare at 1-800-APL-CARE.
source:
MacRumors