Siri burned by The Simpsons
39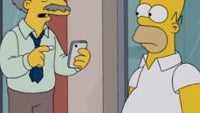 Siri has always been polarizing app. Some find the service to be legitimately helpful and use it regularly to perform various tasks; others have nothing but trouble in getting Siri to understand basic commands or return relevant information; and, there are reports that suggest that most users flat out ignore Siri's existence altogether. It looks like
The Simpsons
falls into that second category.
As you would expect,
The Simpsons
have exaggerated the issue for comedic effect, and obviously Siri has no power to completely delete your contacts, but it's still amusing. Of course, Apple gets to be the butt of jokes on the iconic show simply because the iPhone has a space as a cultural touchstone far more than Android. The mass media gives attention to Apple because it is a much more easily understood single entity, but maybe with the moves Google is making that could change with time.