Shipments of Samsung Display's smartphone ready AMOLED screens to rise 114% from 2015 to 2019
8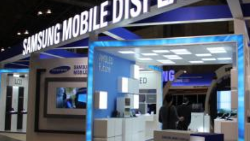 Shipments of smartphone ready AMOLED screens by Samsung Display are expected to hit 560 million units by 2019. That would be a 114% increase from 2015's shipments. Samsung is the leading provider of these AMOLED screens to smartphone manufacturers. In fact, Samsung Electronics is Samsung Display's top customer and should remain so throughout the next few years. Shipments of AMOLED screens to Samsung Electronics should rise from 239 million units this year to 290 million in 2019.
Samsung will pretty much have the AMOLED screen market for Chinese smartphone producers to itself until 2019 and 2020. That is when other companies like Japan Display, Sharp, and others will start to supply smartphone manufactures like Vivo, Oppo, GiONEE, Huawei Technologies and Lenovo. Samsung's shipments of AMOLED displays to those companies will rise from 99 million units this year, to 150 million in 2019.
Starting next year, the Apple iPhone is expected to sport an AMOLED display. The 2017 iPhone will be the tenth-anniversary edition and
Apple is rumored to be making numerous design changes to the phone
to mark the occasion. To that end, Samsung Display will provide Apple with 40 million units of AMOLED displays next year with that figure doubling to 80 million units in 2018, and reaching 120 million units the year after.
source:
Digitimes
Recommended Stories