Screenshots of webOS 2.0 beta emerge?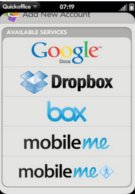 Would you believe that it has been well over a year since the world was first introduced to webOS? During that time, we saw Palm's quick ascent to the top where they ultimately plummeted down to reality as they were eventually bought up by HP. However, we've started to hear rumors of late regarding a refreshingly new face-lift to the once highly prized platform. Everyone still sporting a webOS smartphone are actually waiting in anticipation for webOS 2.0, but it looks as though we're all getting a slight preview of the upcoming update.
Chinese website wibozi.com posted some revealing images regarding webOS 2.0 which should naturally get users up on their feet – especially when 24 screenshots provide us all some quick insights about it. Based on the captured images, we can expect to find multiple IM account types, Google Docs support, remote files storage with QuickOffice, Cisco VPN support, and Dropbox to name a few. Obviously this may be considered a boatload of new information to absorb, but isn't that supposed to happen whenever a mobile platform is on the verge of releasing a highly anticipated update? Especially when it's more than over due at this point?
source:
wibozi.com
(translated)