Samsung's Gear S2 Classic 3G features built-in, programmable eSIM
7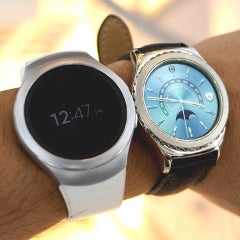 With
the big Gear S2 software update
earlier this week, Samsung delivered firm reminder that the smartwatch is not dead, despite obituaries having been written on numerous occasions. The update also emphasized that Samsung is taking this wearable thing rather seriously, and the company has today reaffirmed that notion by announcing a 3G-ready version of the
Gear S2 classic
. The fact that will harbor its own cellular connection is news enough, especially given that most of its peers rely on a combination of Wi-Fi and Bluetooth. But the real clincher is the eSIM tech -- the first of its kind in the smartwatch arena -- that will allow the device to be programmed to remotely select carriers without any physical SIM being swapped.
Given the vast technologies on offer throughout the modern-day mobile market, the stone-age process of switching SIM cards for different carriers has remained. Apple has been the first recognized firm to try and push things ahead with the
iPad Air 2
, certain models of which include the Mac maker's own programmable SIM tech. Samsung is now looking to do likewise, but for the wearables market.
The GSMA has just published its new eSIM specification for smartwatches, fitness trackers and tablets. Conspicuous by its absence is, of course, the smartphone. The GSMA says the wheels are in motion, but details of the specification for handsets will not be announced until June.
Samsung's Gear S2 Classic 3G will be the first wrist computer in adherence to the eSIM standard. The newly-unveiled specification has huge backing from most of the main worldwide carriers including AT&T, Verizon, Vodafone, EE, to name but a few. A number of mobile vendors are also on board, including Huawei, Samsung, Microsoft and LG. Apple is not included, though.
Having gone its own way to develop the tech for the iPad, it would appear that the fruit company is moving in alignment with -- but somewhat independently to -- the rest of the field. Apple is still said to be working in close quarters with the GSMA in aid of a SIM-less future. But given the firm's affinity to proprietary standards -- Lightning instead of microUSB; AAC instead of MP3 -- don't be surprised if Tim Cook's company takes the separatist approach once more.
The Samsung Gear S2 Classic 3G, meanwhile, will be available from next month as Sammy continues to take the smartwatch bull by its proverbial horns.
Gear S2 fans -- are you excited for the eSIM edition? Let us know via the comments!