Samsung will kick off mass production of flexible displays in H1 2013
28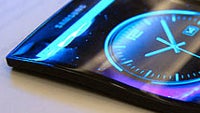 We have seen the first flexible displays long ago and since then we have wondered when will we get the first flexible devices. While we don't yet know the answer to the last question, we now know that Samsung is the first company to
starting mass production of bendable screens in the first half of 2013
, and that is one of the biggest steps towards flexible devices.
Samsung's display division, Samsung Display Co., has entered the last phase of the development of flexible displays. It is not yet clear how much Samsung has invested in the technology, but it is coming up.
Probably the best thing about plastic flexible screens is that they are much harder to break than brittle glass.
As we are starting to reach a point when resolution on screens becomes more higher than the human eye can discern, phone makers will certainly look for new and different ways to bring innovation and extra value, and finally margins to their products.
The new Samsung displays will use the OLED technology, layered on top of a plastic foil. While Samsung is the first, it is not the only one that is doing research in flexible screen. LG, Sony and Sharp are also developing similar solutions.
source:
WSJ
,
Total Telecom