Samsung to announce something at Phones4u store in London on March 30th (not really)
22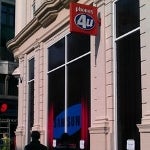 How much is that Samsung in the window? Actually, a photograph of a windows display at the flagship Phones4u store on Oxford Street in London teases an announcement that the Korean based manufacturer will be
making in tandem with the handset retailer on March 30th
. Samsung has had a working relationship with the store as it
gave Phones4u an initial exclusivity on the launch of the Samsung GALAXY Nexus
. So announcing a new Samsung handset together is not out of the realm of possibilities.
By now, we pretty much know where your mind is going with this, and we would tell your mind to knock it off. The introduction of
such a high-profile device
the most anticipated smartphone of the year
is probably going to be accomplished through a more public and worldwide stage than a window at a Phones4u store. The last major event that Samsung held in London was to display both the Samsung GALAXY Nexus and the Samsung GALAXY Note, and that was at the Battersea Power Station which is more notable than a retail store. Figure that this presentation would be worthy of a low to mid-range handset.
Phones4u had no comment, which is the smart thing to say because it keeps everyone focused on the display, guessing. By next Friday, we will know for sure.
source:
Eurodroid
via
AndroidCentral
Alas, there will be no Samsung smartphone unveiled at the Phones4u outlet. It has been confirmed that the store is simply re-opening on that day after undergoing refurbishment.