Samsung rolled a wearable chip of its own, and it's all about bio measurements
8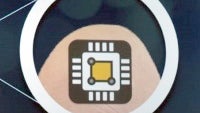 Samsung Electronics' semiconductor division announced it has developed a chip for wearables. The "Bio Processor" is a system-in-package design (just like the Apple Watch chip) with embedded electrocardiogram reader, application processor, and Bluetooth modules. Samsung is particularly invested in ECG monitoring, noting how a sensor can not only monitor the condition of one's health, but can also be used for securing information, as humans have their own unique heart beat patterns that can be used for locking up data.
Among the many uses Samsung may have for a wearable ECG is biometrics-based automation. A wearable bracelet could allow one to get a piece of information (say, their personal schedule) by automatically logging themselves in to their smartphone or PC without manually entering a password or other form of security mechanism. Moving away from technological applications and into common life scenarios, an ECG-equipped bracelet or other wearable device can allow car doors or house doors to open automatically, without using a dedicated key.
Sport enthusiasts could also make use of the ECG sensor, for their heartbeat, breathing rate, and level of stress measurements could be used by coaches to gauge their performance.
Built on a 45nm process, the chip is also good for Photo PlethysmoGraph readings that measure blood flow rate. With ECG, PPG, and BIA measuring functions all handled by a single chip, Samsung's creation can help a person to know what kind of ilness they may have by monitoring ECG patterns and examining them with their personal doctor. The company is predicting a variety of Smart Healthcare services that will be enabled by its invention, giving the example of providing continous medical service by sharing the user's personal ECG information with hospitals.
Samsung plans to expand on its bio processor development by introducing a 20nm process, striving for higher battery efficiency and smaller chip sizes. Eventually, a bio processor is bound to find its way in smartphones and tablets, bringing another layer of health-related functionality to the devices that are already ambitious in this field.
source:
ETNews
via
G For Games