Samsung out, TSMC to be the sole manufacturer of iPhone 7 processors
78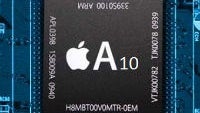 This isn't the first time Samsung has been bumped from the manufacturing roster for Apple's iPhone processors, but the company apparently just can't keep up with TSMC's manufacturing process so Samsung is out for this year's work. Apple has reportedly given TSMC the full contract for manufacturing the next gen iPhone 7 processor, expected to be called the A10 chip.
Word has it that what put TSMC over the top was its capabilities with 10-nanometer manufacturing technology, so it seems reasonable that would play a role in the next iPhone SoC. A 10-nanometer chip would make it smaller and more power efficient which would mean Apple would be able to make the iPhone thinner without it affecting battery life. Of course, most users would prefer that the iPhone stay the same thickness (or get thicker) if it would mean even better battery life, but Apple never wants to listen to customers when it means not making a thinner and lighter iPhone.
No other news about the iPhone 7 or the A10 is known right now and it may be a while before we hear anything else too solid. The next iPhone isn't expected to be announced until September, so we'll have to survive on rumors until then.