Samsung not entering platform wars with Android and iOS, says executive
6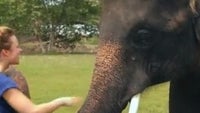 Samsung is not planning to enter the platform wars
with an operating system of its own, according to a Samsung executive. This comes as an answer to Verizon's chief executive Lowell McAdams suggesting that Samsung is the
"elephant in the room,"
and might develop a mobile platform competing with Android and iOS.
"That's not core to Samsung's strategy,"
Kevin Packingham, chief product officer at Samsung.
"Isolating Samsung and focusing on the vertical integration is not something we see as a way to be successful."
Packingham said that the slowly fading bada operating system is only targeting the lower-end market in Asia.
Instead of developing an operating system of its own, Packingham stressed that Samsung is focused on working together with other companies, much like it is now working with Intel on the Tizen HTML5 platform.
The Samsung executive also expressed certainty Google is not playing favorites with Motorola Mobility and compared the situation over there with Samsung's distinctly separated mobile and chip divisions.
"I would love to have some of the component technology for our products because they are a huge differentiator,"
Packingham explained.
"But we serve multiple customers. I got some insight into the roadmap but I have no control over where it goes."


source:
Fierce Wireless