Samsung loses $10 billion of its value over rumor that Apple will cut orders
22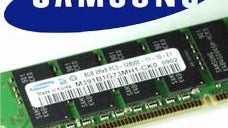 Samsung has just lost $10 billion
, or 6%, of its market valuation over a rumor that its biggest customer, Apple, has switched to ordering chips from Japanese silicon maker Elpida. This goes on to show just how powerful a single rumor might be, even when it comes from a source that has a mixed track record as Taiwanese DigiTimes in this case.
The report stated that Apple orderd DRAM chips from Elpida's Hiroshima plant in Japan, occupying nearly half the total chip production capacity. And despite it not pointing out any specific sources, the rumor has hit Samsung stock hard.
The Korean company is currently the world's
biggest DRAM maker
, but if the rumor proves true Apple might be moving to change that. Recently, US chip maker Micron was said to be looking into merging with Elpida, and a joint company could pose a real threat to Samsung.
"It looks like Apple doesn't want to see Samsung and hynix dominate the chip market. Apple wants to maintain its bargaining power by keeping Elpida running,"
an analyst at LIG Investment & Securities, Choi Do-yeon, said.
Other analysts pointed out, that the rumor was only the last straw, and the drop in market value was coming anyway because of a worsening international environment. Where's the truth? It seems the rumor had some role in this, but finally you get to decide.