Samsung gets 50,000 beta testers for its Galaxy Gear smartwatch, 8,000 for Galaxy Round
11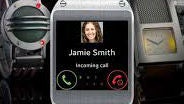 Right from the start, it has been pretty apparent that the Samsung Galaxy Gear and the Galaxy Round are both basically beta products intended to test out the waters of new form factors, rather than aiming to capture a huge portion of the consumer market. The limited release area of the Round is enough to prove that, and you can see it easily enough with the Galaxy Gear in the pricing and compatibility with only one phone.
So, a new report needs to be put into context (which not all sites will do, as you may see with the source link). According to
BusinessKorea
, Samsung has averaged about 800-900 sales per day for the Galaxy Gear, which adds up to about 50,000 total units sold since its release in late September. Given the $300 price tag, and the fact that you have to have a Galaxy Note 3 to make the watch useful, that might not be such a terrible total. At the very least, calling it a "flop" incorrectly implies that this device was expected to sell big numbers, which just isn't true.
The Galaxy Round was released only in the Korean market just 8 days ago, and is reportedly currently selling about 100 units per day, but has totaled about 8,000 units since being released. The Round has even less appeal than the Gear, because the Round isn't even doing much all that new. Sure, it has a curved display, but with a device that offers a
flexible
display on the horizon, curved just isn't that exciting.
The real question is what Samsung will have to reveal at CES in January, because rumor has it that the real consumer focused Gear smartwatch follow-up (or possibly just major update) is expected to be announced then.