Samsung files a patent application for a dual-camera system
36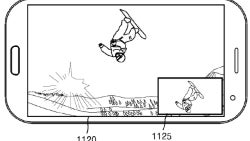 A new patent application, published by the USPTO, reveals that Samsung might be considering a dual-camera setup for future devices. The application was filed way back in March, 2016, but it was made public just a few days ago.
The patent application is titled
"Digital Photographing Apparatus and Method of Operating the Same"
, and shows a system of two cameras – one with a wide-angle lens and one with a telephoto lens. The latter would capture a zoomed-in image of the subject that's being shot, and a processor would be used to determine which of the two cameras is capturing the
"main image"
, based on the subject's motion.
If the velocity of the subject is greater than a predetermined speed, the processor would prioritize the wide-angle camera, and if the subject is moving slower than said predefined speed, the telephoto image would be the
"main"
one.
Additionally, the application describes a possibility where both camera images are displayed on the device's screen, with the main image being displayed full-screen, while the sub image is shown as a picture-in-picture on top of it.
The patent application suggests that the camera setup can also be used for video, with the integrated processor switching the main image automatically. If it really switches the main image dynamically, this could make for some pretty interesting results, with close-ups when the subject moves slower and wide-angle action shots at higher speeds.
It is unknown if and when the dual-camera system will make its way to a Samsung smartphone, but it's definitely worth keeping our eyes open for any new info on the subject.
Recommended Stories