Samsung expects to double its smartphone market share to 10 percent by Q4
0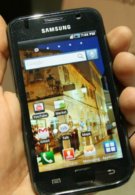 The smartphone market is simmering at all sides with so many companies vying for a larger piece of the pie in this competitive arena. It's no wonder why we've seen a surge in the amount of smartphones being sold in the course of the last couple of years as more people become fixated on some of the features they embody that aid them in almost every facet of life. Samsung is no stranger in overall global market when it comes to mobile phones, but they happen to have a weakness when it comes to the smartphone industry. In the past, we've seen names like the Omnia take precedence among their smartphone offerings, but it really lacked that universal appeal that made other smartphones like RIM's BlackBerry or the iPhone become so universally sought out.
Now that the Samsung Galaxy S is expected to show itself in some form on a worldwide scale, the Korean based manufacturer is eying itself in moving up the smartphone market share ladder. Currently they sit at a 5 percent market share and ranked in 5th place overall – nowhere close to market leader Nokia who happens to be at a healthy 40 percent. However, they're specifically looking to attack some of its closer competitors – like HTC who happens to be ranked 4th at 7 percent.
Samsung Senior VP of Mobile Communications Division, Lee Donjoo said, "Samsung intends to raise its market share for smartphones to more than 10 percent in the fourth quarter from its current level of less than 5 percent." The Samsung Galaxy S is increasingly becoming the device that might potentially make that figure a reality as the smartphone is recognized highly in an already crowded mix of offerings this summer. Time will paint the true telling if it can indeed become that premier smartphone that can take the company to new heights.
Samsung Galaxy S Specifications
|
Hands-on
source:
Bloomberg Businessweek