Samsung challenge Chrome with its own mobile web browser
29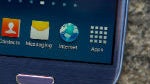 The word around the mobile tech water cooler is that Samsung is looking to differentiate (read: fail to improve) its smartphones with a brand new web browser that it is building in house. The browser is expected to be based on WebKit, just like Google Chrome, and Apple's Safari, but it's unclear exactly how and where Samsung plans to deploy the browser.
It should be mentioned straight off that WebKit is an open-source browser engine to which both Google and Apple have contributed quite a lot, so Samsung is sort of using Google and Apple's work to build a competing browser. The expectation is that Samsung's browser will become a standard part of its TouchWiz layer in Samsung Android devices, meaning it will follow along with Samsung's proprietary changes to Android's Calendar, E-mail, Messaging, etc. And, much like those other TouchWiz apps, it will be up to the user to decide if you think the changes are actually for the better or not. Although, unlike those apps, you should still be able to get Google Chrome from the Play Store, whereas the stock Android apps are lost to you.
What is unclear about this story is what other platforms could see the Samsung browser. It seems pretty likely that an in-house browser would either be ported to or from Samsung's bada platform. Some other news outfits are claiming that this browser will "compete" with Apple's Safari, but it seems highly unlikely that Samsung would release its browser on iOS, which is the only place to "compete" with Safari. In the meantime, Samsung has a pretty tall order trying to go up against Google Chrome.