Samsung announces the Exynos 7270, the first wearable SoC built on a 14nm process
16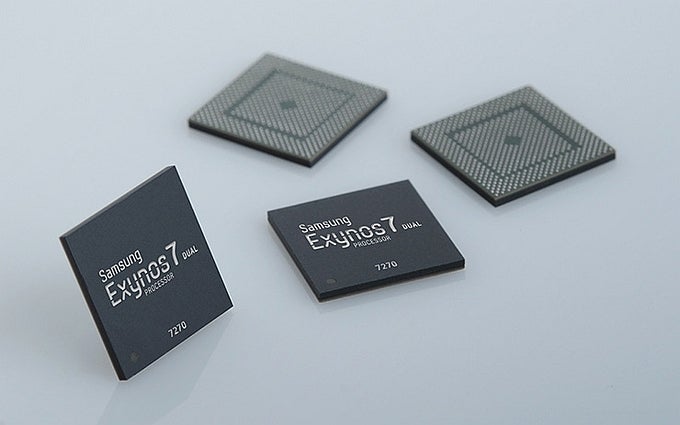 Samsung has announced a new chip for wearable devices. Called the Exynos 7 Dual 7270, this is the first application processor for wearables that's built on a 14nm process.

Samsung started making smartphone SoCs using its 14nm manufacturing process back in 2015. The Exynos 7420, the chipset that powered the international versions of the Samsung Galaxy S6, S6 edge, and Galaxy Note 5, was the first Samsung chip that the company manufactured using the technology, but now Samsung is ready to utilize its state-of-the-art 14nm foundries to make chips for wearables as well.

Back to the Exynos 7270, the wearable chip integrates two ARM Cortex A53 cores, which are designed to balance performance and power efficiency. Since the chip will be made using the 14nm node technology, Samsung says that the CPU will be about 20% more energy efficient compared to similar chips built on 28nm.

Interestingly, the Samsung Exynos 7270 will also integrate an LTE Cat.4 modem, a feat that will allow wearables based on the chip to transfer data over carrier networks without going through a paired device. The Exynos 7270 will also integrate WiFi, Bluetooth, and FM radios, thus completing the essentials communications package.

Another thing to note about the Samsung Exynos 7270 is that the AP will integrate the CPU, the radios, the DRAM, and the NAND flash memory chips in a single piece of silicone. Samsung says that the solution saves up about 30% of the total height, a feat that will allow wearable makers to design thinner wearables without sacrificing performance or power efficiency.

Samsung did not announce when the first wearables based on the Exynos 7270 will hit the market, but the company said that interested device manufacturers can already get their hands on a reference platform which consists out of the chip, an NFC chip, and various sensors. This way, device makers can already start work on their upcoming devices before the chip is ready to roll out.
In closing, we'd like to note that, while Samsung did not mention it, we suspect that the Exynos 7270 will be at the heart of the upcoming
Samsung Gear S3
smartwatch, a wearable that's expected to launch as early as later this month.
Recommended Stories