Samsung Wave hits the 1 million sales mark over in Europe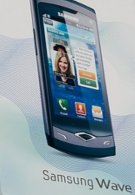 Samsung of late has been announcing some pretty monumental achievements regarding some of their devices, but the latest one to be praised heavily from the Korean manufacturer is the Samsung Wave. The bada powered device that brought Super AMOLED into the limelight has just reached a milestone as it hit the mark of selling one million units over in Europe. That's definitely no small feat, but its paramount trip to the 1 million figure was aided by strong sales in France, German, and Austria – where it was regarded as the top seller in those countries.
As we've already heard, bada will continue to branch out onto other
Wave branded devices
– thus providing additional visibility to the platform on a larger scale. Still, this moment in the Wave's history is surely a good thing in showing the kind of adoption rates we're seeing with bada in general.
Samsung Wave S8500 Specifications
|
Review
via
Mobileburn