Samsung Gear Live woes - shoddy charging mechanism and cumbersome support?
27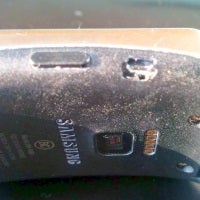 Although Android Wear smart-watches got the tech community reasonably excited, their arrival upon the technological landscape has been anything but problem-free. We mostly got over the lukewarm feelings instilled in us by the blocky designs of LG and Samsung's wearables, and we accepted that the Moto 360 still doesn't have a release date. We're also ok with Google mostly closing off Android Wear's customization and modding options for now. But the latest reports of users' gripes with Samsung's Gear Live build quality and customer support is a tad harder to swallow. While we're waiting for an official statement by Samsung Mobile on the matter, here are the facts:
At least three Google I/O goers have had their Gear Lives' charging mechanisms break off, rendering the device unable to charge by standard means.
"This morning I removed the charging cradle from my watch and removed a chunk of watch at the same time, so now the cradle no-longer clips to the watch. This means that to charge the watch I need to strap the two things together and usb debugging is now completely impossible (you can't use the watch with a strap across it's face)."
- wrote Rory Glynn in a Google+ post.
"The mechanism to hold the power supply in place broke after only 4 loading cycles. Even if i did see this coming, I expected it would last some month instead of days." -
said Markus Plänitz.
"It doesn't hold anymore and I can't charge it!"
- complained Hasan Hosgel.
All three took photos, accessible in the gallery below.
Moreover, Glynn couldn't get in touch with Samsung's customer support system and had to get Google to phone him in. Even then, all the Samsung operator could do was to arrange a call in the next 48 hours, with instructions on where to send the watch for repair - at cost, no less. Mind you, said instructions couldn't be emailed or texted.
Hopefully, Samsung will take measures to improve the situation.