Samsung Galaxy Tab S2 US pricing unveiled, pre-orders launch today
14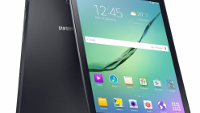 Samsung announced the ultra-thin Galaxy Tab S2 tablet series back in mid-July, but although the company shared almost every hardware detail that there is to know about its two tablets, Samsung stayed mum on the US pricing and release date. That changed today, as Samsung has officially announced the pricing and the release date for both the 9.7-inch and the 8.0-inch Galaxy Tab S2 versions.
As expected, the cheapest Galaxy Tab S2 is the 8-inch version with 32GB of internal storage and Wi-Fi only, which is priced at $399.99. The 9.7-inch Galaxy Tab S2 starts at $499.99. On top of the Wi-Fi only models, Samsung is also selling its two new ultra-slim slabs in LTE versions through AT&T, Sprint, T-Mobile, and Verizon. As far as the color options are concerned, the Samsung Galaxy Tab S2 series is available in black, white, and gold, although the options vary by carrier for the LTE-enabled versions.
Although the hardware specs are mostly unchanged from the previous generation, the two new Samsung Galaxy Tab S2 tablets impress through their thickness and weight. Both versions measure just 5.6mm across the waist, being the slimmest tablets in the world at the moment. Furthermore, the 8-inch slab tips the scales at just 9.4 ounces, while the 9.7-inch version weighs 13.8 ounces.
Both Galaxy Tab S2 versions come with Super AMOLED displays running at a resolution of 1536 by 2048 pixels at a 4:3 aspect ratio. Under the hood there's an octa-core processor with four CPU cores clocked at 1.9GHz and four additional cores clocked at 1.3GHz. Samsung did not specifically mention the model of the chipset that powers the Tab S2 series, but from the information that we currently have, we figure that the Exynos 5420 chipset that powered the first-gen Galaxy Tab S is back for a second spin. Other specs include 3GB of RAM, either 32GB of 64GB of expandable integrated storage space, an 8MP primary camera on the back, as well as a 5MP "selfie" shooter on the front.
On the software side, the Galaxy Tab S2 tablets will run Android 5.0 Lollipop at launch, which is a bit disappointing given that Android 5.1 Lollipop has been around for a few good months now. Samsung made no mention on a potential update to Android 6.0 Marshmallow.
Samsung opened up for Galaxy Tab S2 pre-orders today and the release date is scheduled for September 3.