Samsung Galaxy S 4 accessories include Flip Covers and heart rate monitor
24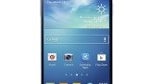 After you buy your
Samsung Galaxy S 4
, you are going to want to take a look at the accessories available for the device. Hey, that's half the fun of buying a new top-shelf model. Over in the U.K., retailer Clove is already listing all of the accessories it has for the Samsung Galaxy S 4 and the list includes some accessories that you probably never would have thought of, like a
heart rate monitor
. Unfortunately, there is no pricing or availability yet for the monitor, which connects to your phone using Bluetooth 4.0 and keeps track of your BPM.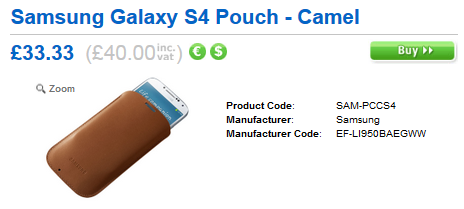 This camel colored pouch sungly fits your Samsung Galaxy S 4
Available for £24.99 after tax ($38 USD) is the vehicle dock for the Samsung Galaxy S 4 that allows you to mount your new pride and joy on the windshield of your car. While this is being marketed for the Samsung Galaxy S 4, it will work with any phone carrying a screen in the range of 4 inches to 5.3 inches. A wireless charging solution will be available for the new flagship Android phone, but will require you to buy the
wireless charging pad
and the
special back cover
that works with the pad. Right now, pricing is unknown on those items.
The famous Samsung Flip Cover is offered in four colors (Light Blue, Blue, White, Black) for £23.99 after tax ($36 USD). Other accessories include a Body Scale, protective covers, and a cool looking camel colored pouch that snugly protects your S4 for £40 after tax($60 USD).
A great handset deserves great accessories. Just about everything necessary to make your Samsung Galaxy S 4 be the phone you need it to be will be available once the phone is launched at the end of next month. Perhaps the most important item is the extra battery. With the exact same 2600mAh capacity as the stock cell, there is a replacement battery kit that includes a special cradle to keep the second battery fully charged. After tax, the kit costs £37.99 ($57), or you can buy the battery separately for £23.99 after tax ($36 USD).
source:
Clove
Recommended Stories