Samsung Galaxy Note II stars in a set of detailed hands-on videos
22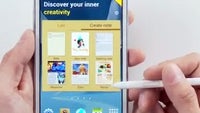 That the
Samsung Galaxy Note II
is actually pretty awesome is something that
3 million people around the world already know
. With its humongous HD screen, ultra-fast quad-core processor, and rich set of features, it is among the best Android devices currently available on the market. But in case you are still not convinced, here is a set of videos that Samsung just posted on YouTube just for you.
The videos go over the features and specifics of the Samsung Galaxy Note II and thoroughly describe the benefits they bring, so those who own the device might learn something new, while those who don't might now find a reason to consider getting one. The first video in the set is all about hardware and design. Then the second one goes over the multitasking features of the Samsung Galaxy Note II and introduces a number of cool things you can do with the S Pen. Next in line are a couple of videos rightfully titled "Expression tools" - they take an in-depth look at the many pre-loaded apps and features, including apps for sketching and image editing and the advanced camera features. Last but not least, the final video presents a few more of the things that you can do with a Galaxy Note II.
We have embedded all videos in the slideshow below for your viewing pleasure, so don't hesitate to check all of them out!
source: Samsung