Sailfish OS-touting Jolla phone unboxed, shows off its fresh 'sandwich' design
11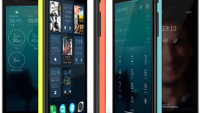 Jolla
, a smartphone company that got
jump-started
thanks to its Nokia roots, has been hard at work on a device that's fresh and different, and their efforts have finally paid off – 'The First One' phone has
now
been officially launched.
Right on schedule
, too.
We've known pretty much everything there is to know about the first Sailfish OS-touting smartphone, including price, design and specs and even how The First One handles itself in at least one
benchmark
. Yet, nothing truly beats seeing, in the closest form to person, what a hefty €399 (about $540) price tag gets you. Thankfully, you can see several snaps of the entire contents of The First One's box and even the phone with its signature 'sandwich' design – a swappable backplate, called The Other Half, that changes the color scheme of the entire OS, depending on its own.
For those of you too busy to go digging for specs, keep in mind that those $540 bucks don't quite have the same bang they would otherwise do with, say, Motorola nowadays. Put forth simply, you get a 4.5-inch 540x960 qHD display, a 1.4GHz dual-core Snapdragon 400, 1GB of RAM and 16GB of expandable storage. Camera capabilities sit at 8-megapixels at the rear, along with an LED flash. Of course, and while we're still at the topic of noteworthy things, do take this in moderation – there's still no telling exactly how resource-hungry Jolla's Sailfish OS will be, so these may actually do the job just fine.