SIMPLE Mobile adds new monthly unlimited plan for $40
12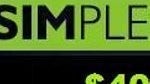 No-contract wireless carrier SIMPLE Mobile just unleashed their new monthly unlimited plan that gives users unlimited talk, text and web for the affordable price of only $40.
The SIMPLE Mobile unlimited plan is a good deal, with the exception that they won't offer you 4G speeds. You will be limited to 3G data, but there will not be any cap or throttling to deal with if you are one of those so-called heavy users. The wireless provider still offers a $60 unlimited plan that will provide you with 4G speeds courtesy of the T-Mobile network that they piggyback on.
SIMPLE Mobile has also finally added BlackBerry support. However, BlackBerry devices cannot be used with the $40 plan; rather a $50 plan that delivers everything the lesser plan does plus support for BBM, BlackBerry e-mail etc., all at 3G speeds.
Is anybody going to hop on the SIMPLE Mobile bandwagon now that they have an ever cheaper plan to compete with the other MVNOs of the world? Tell us what you think in the comments below.
source:
Into Mobile