S Voice free ride is over, Samsung blocks servers to devices other than Galaxy S III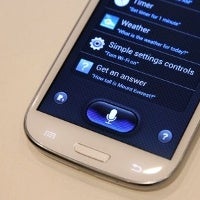 Soon after Samsung unveiled the Galaxy S III and its unique S Voice feature to take on Siri, the APK was extracted and pretty much every Android owner who'd install it, got access to the voice assistant. The free ride however is now over as Samsung has begun
blocking S Voice requests
by phones other than the Galaxy S III.
The application was extracted from a developer's unit of the SGS III, and just as we thought that the feature - advertized as unique for Samsung's new flagship - has made its way to all Android devices, the Koreans along with Vlingo started blocking server requests from unauthorized phones. Vlingo is the company behind the S Voice feature.
At the moment we start using S Voice we are sending all the following info to them:
X-vlclient: DeviceMake=samsung; DeviceOSName=Android; DeviceModel=Galaxy Nexus; DeviceOS=4.0.4; Language=en-US; ConnectionType=DirectTCP; Carrier=[my Carrier]; CarrierCountry=[my Country]; DeviceID=[my IMEI]; AudioDevice=Android
Looks easy to them to deny the requests from the phones other than Galaxy SIII. And they are doing this obviously, look at the response:
63.116.58.58 10.8.0.1 HTTP 340 HTTP/1.0 404 Not Found
Expert Info (Chat/Sequence): HTTP/1.0 404 Not Found
The hackers community is looking for a workaround, but in the meantime it seems that the Galaxy S III will arrive with S Voice exclusive to it.
source:
XDA Developers
via
The Next Web