Rumors talk of a touchscreen-only BlackBerry midranger - the BlackBerry Rio (or Z20)
15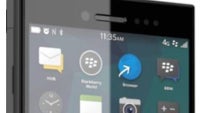 The folks at BlackBerry seem to be brewing a midranger without physical keys, dubbed "BlackBerry Rio". According to pictures, which allegedly portray the new smartphone, it looks a bit like the company's entry-level
Z3
handset, though, rumors claim it has received a spec buff, launching it in mid-range territory.
Reportedly, BlackBerry says the Rio (a.k.a Z20) is aimed at "Power Pros who want to be considered by others as being current with technology, yet cost is a major consideration in their purchase decision." – a pitch that reminds us of Microsoft's "Affordable flagship" motto for the
Lumia 830
, but extended into a bulkier sentence – let's hope that's not their official tagline for the phone.
Otherwise, the Rio is expected to pack a 5", 720p display, 8 MP / 2 MP camera combo, a 1.5 Ghz Dual-Core SnapDragon S4 SoC, 2 GB of RAM, a 2,800 mAh battery, and 16 GB of expandable internal storage. The handset is expected to launch around February 2015 with a price-tag of around $300.
The choice of CPU has us a bit baffled and we'd say a piece of info was probably skewed, while traveling down the rumor pipe, as this doesn't sound like a handset that's going to have its feet firmly planted in the 2015 midrange arena, especially now that phones are making the switch to 64-bit, quad- or octa-core processors en masse. Of course, BlackBerry runs its own proprietary software, which may or may not be optimized accordingly, so between that and the unconfirmed hardware information – we'd say it's still early to cast judgement.