Rugged: The best iPhone 6 Plus armor cases
2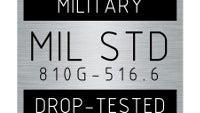 So your dream came true – after years of staunch support for Apple, you were rewarded with an over-sized iPhone, just like you've always wanted. The iPhone 6 Plus' screen is a beauty and you can finally immerse yourself in whatever content you find most appealing on the move.
Quite surely, however, the #BendGate racket has reached your ears, and you're worried your 6 Plus might bend when inside your pockets, or, worse yet, snap entirely in half when you're least expecting. If you're the cautious type, or your work/lifestyle requires serious protection for your electronics, you're likely interested in picking up a well-built, well-designed rugged "armor" case for your iPhone 6 Plus. If so, then this is the right place to be.
The rugged, "armor" cases below were handpicked because of their reputation and reliability. Any of them will give you the protection you want – but admittedly, some of them go farther than others. Take a look, read the comments, and take your pick.
Spigen Slim Armor
If you want to protect your iPhone 6 but don't quite fancy the boxy kind of armor cases, then Spigen's $29.99 Slim Armor case is right up your alley.
Built out of thermoplastic urethane (TPU) and polycarbonate, and helped by quad air cushions and four little legs to keep its back scratch-free, the Slim Armor will help keep your 6 Plus in one piece, even if you drop it. The rugged case also comes with a fold-out type kickstand, which can be used to watch media on the go – a prime use of the phablet's 5.5-inch screen.
Spigen Tough Armor
Spigen's Slim Armor line-up is good and all, but if you're looking for the ultimate in protection, Spigen's thinking is that you should consider the slightly more expensive, $34.99 Tough Armor case.
Like the Slim Armor, the case is built out of TPU and polycarbonate, features air cushions and small legs at the back, but also is shock proof. As you can see, a similar, polycarbonate kickstand is also included in this model. Spigen claims that it was specifically coated (the kickstand) to prevent discoloration.
Urban Armor Aero
Urban Armor is another name in the rugged game, and its Aero case for the iPhone 6 ticks all the required boxes.
The impact-resistant, soft core on the inside is protected with another, click-on shell made out of a tougher composite. This thing is tough enough to pass military drop-test standards (MIL STD 810G 516.6), and also comes with an included screen protector for all-around protection. It costs $39.95.
Urban Armor Scout Folio
If you are more into "folio"-type covers, then the $39.95 Scout Folio is the better choice if you're eyeing Urban Armor's iPhone 6 Plus selection.
Once again, we've got a soft core with a sturdier shell on top made out of a tough composite, whose rubberized exterior is grippy even when wet. Like the Urban Armor Aero, the Scout Folio is impact resistant and meets that same military drop-test standard (MIL STD 810G 516.6). As promised, it also has three slots for credit cards or ID and while you don't get a screen protector, this is a wallet-type case, so your display will be protected when its closed.
Rockform Aluminum
Apple chose aluminum for the iPhone 6 Plus' body, so it sounds right for case makers to also adopt it in their products. Rockform does that with its Aluminum case.
The relatively expensive, $89 Rockform Aluminum is made out of aircraft grade aluminum, has an impact-resistant TPU inner shell (soft), weighs less than one ounce, and promises not to mess with your signal despite being made out of... well, aluminum.
PureGear DualTek Extreme Shock
For $34.99, PureGear offers it sturdiest iPhone 6 Plus case – the DualTek Extreme Shock.
The fancy name aside, this case, too, satisfies military standards for drop resistance, and the fact that PureGear has include four distinctive, shock-absorbing corner cushions probably has something to do with that. The DualTek Extreme Shock case also has a grippy profile, so you won't have to worry about accidental drops.
Pong Rugged
While the Pong Rugged case does satisfy U.S. military specifications, and can withstand drops from up to 6.6', its ruggedness is actually not its sales pitch.
Pong's killer feature is its FCC-certified ability to redirect radiation that comes from your smartphone away from your head by using a gold antenna (seen in the photos). In result, SAR levels to your head are reduced so much so that your phone's essential SAR score is up to 5 times under the FCC-set limit. Pong's case can apparently also boost your signal strength all the while protecting your precious brain, which is yet another extra you get for that $69.99 you have to whip out.
Otterbox Defender
If you've been on a hunt for a high-end, rugged smartphone case, Otterbox's wears likely were among your top considerations.
Its popular Defender line features three layers that combine to make your iPhone 6 Plus drop, dust, and scratch protection. Thanks to the included screen protector, your display should also remain intact, even after some more serious drops. It costs $69.90.
Otterbox Commuter
If you dig Otterbox's cases, but aren't quite hardcore enough to go for the bulky Defender, then the company's Commuter series might be more your taste.
Slimmer than the Defender, the Commuter case is nevertheless still plenty rugged, offering drop, dust, and scratch protection. Like the Defender, it also comes with a dedicated screen protector, so your gorgeous display has a better chance of surviving. The Commuter case also cheaper, at $49.90.
Supcase Unicorn Beetle Pro
Supcase's oddly named Unicorn Beetle Pro case costs $29.99 and will provide better protection then the unicorn part in its name suggests.
The case ships with a built-in, scratch-resistant screen protector, and its two layers (TPU + polycarbonate) ensure enough resistant to survive the inevitable drops. To spice things up, Supcase has also added a belt clip holster for all you folks that carry their phones old school style.
i-Blason Armorbox
At $24.99, the i-Blason Armorbox is cheapest tough case on our list.
With its unibody, dual-layer design (soft TPU inner core + hard polycarbonate shell) and four protective corners, the Armorbox is shock resistant. i-Blason has also included a screen protector in the box for all-around defense against the elements (and your clumsiness).