Rogers offers Nokia E71 in white
0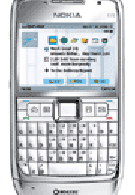 Remember the old Casper cartoons? When a person saw a ghost, all color would drain from the body and he would turn white. Now, imagine a Nokia E71 that has just seen a ghost and you'll get the idea of what Rogers is now offering. The thinnest smartphone in the Canadian carrier's line-up, the E71 offers dual email functions for business and personal use, Wi-Fi, GPS, a 3.2MP camera with flash and auto-focus, and a microSD slot that supports up to 8GB in memory storage. Rogers is offering the device for $99.99 with a 3 year contract with a minimum voice and data plan of $45. If you don't want to tie yourself up for 3 years, a 2 year deal is offered at $374.99 and a 1 year pact will cost $399.99. Off contract, the unit is priced at $449.99. Now who looks like they've seen a ghost?
*Update* - March 19, 2009
The white Nokia E71 is now also available in the States. Cincinnati Bell, a small cellular carrier, has picked up the model and has added it to their line-up. Unlike the offer from Rogers for our Canadian friends, Cincinnati Bell is offering it for free after a $399.99 instant discount and a $100 mail-in rebate with a new two year contract. Now we can see the color returning to your face.
Nokia E71 Specifications
|
Review
source:
Rogers
via
mobilesyrup