Ringtone used to augment breast size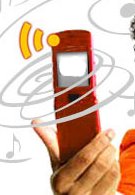 We all like watching all those infomercials late night on television that alleges to promote a product or service that is relatively inexpensive. But would you believe that a cell phone ringtone can be used to increase a woman's breast size? Japanese "subliminal master" Hideto Tomabechi has a "trick" with a ringtone that gets interpreted by the brain as the sound of a baby crying. So it seems as though the brain has the ability to change the body chemistry and should signal that part of a woman's anatomy to increase. Maybe hearing the sound of a baby cry twenty times a day for a solid ten days may make it happen? So if you're up to the task and maybe see if you'll get results,
download
the ringtone and give it a shot.
via
IntoMobile