Reports are coming in of Verizon Galaxy Nexus owners getting 4.0.4 update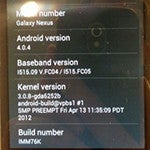 Throughout the day there were reports of isolated sightings of the
almost mythical
update for Verizon's Galaxy Nexus. Initial reports were not verifiable, but now a couple of items have popped up showing that the update has indeed slipped out to at least a couple of people.
First, an enterprising fan went into his local Verizon store to see what was on the display phones, and lo and behold one of them had the update (see photo below). Given that the photograph is clearly taken of an in-store display phone, it doesn't strike us as easily faked (the way people can manipulate data on rooted phones in their own possession).
Just in case you were worried that perhaps this was a case of inattentive VZW employees and a super-hacking genius, it turns out that someone got a log from an updated phone to the developer community at XDA, which in turn allowed them to find where the file was actually being hosted. The result, predictably, is that enthusiasts with hacking skeelz can now install the update via Clockworkmod Recovery (and if you don't know what that is, you should be waiting for the official update message from Verizon, like the rest of us).
expecting last month
. We assume that this small batch of update pushes wasn't intentional – perhaps it was supposed to go to official testers and the MEID was entered incorrectly. At the least eager fans usually dig up Verizon's official release PDF before the update gets rolled out. But it's equally clear that the update is at an advanced state of testing, so all of you Verizon Galaxy Nexus owners should see the update sooner rather than later.
Those of you itching to download the update to flash it yourself can check out the second source link below.
sources:
Android Central
,
Droid-Life