Regulators start digging into wireless industry; exclusive deals to be examined closely
12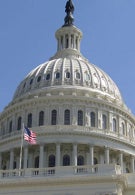 The FCC opened an inquiry into the cellular industry on Thursday as part of a congressionally mandated annual review of the business. The inquiry comes at the same time that the Feds are examining exclusive deals between handset manufacturers and the carriers. Big network operators like Verizon, Sprint and AT&T have exclusive rights to sell certain popular smartphones in the U.S., a practice which small, rural carriers complain leads to less competition. While Verizon currently is the only U.S. carrier allowed to sell the BlackBerry Storm, AT&T has a similar arrangement with the Apple iPhone and Sprint likewise has a deal with Palm for the Pre. With 90% of the nation's cellular calls carried over one of the top 4 carriers (Verizon, AT&T, Sprint and T-Mobile in order of size), and with 60% of U.S. cell calls carried over either Verizon or AT&T, the rural companies are basically shut out of obtaining the latest devices with the most wanted features.
The FCC now has 3 separate inquiries in
motion
. Besides the aforementioned look at competition in the wireless business and the exclusivity deals for handsets, the commissioners are taking a look at billing practices by phone, internet and cable companies. The public can leave comments on the first two inquiries for 30 days with a 15 day window for an FCC reply. The third inquiry has a 45 day public comment period with 15 days open for FCC response.
source:
Reuters