Refurbished HP TouchPad back on sale at Woot: 32GB model for $219.99
5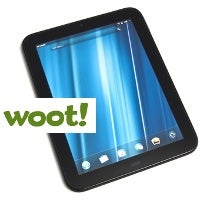 The HP TouchPad was the most sought after tablet after the company kicked off a fire sale bringing its price down to just $100, but if you didn't act quick chances are you couldn't find it anywhere. Now, it's back on sale - it costs more, but the price is still very very low at just $219.99 for the 32GB HP TouchPad.
This is a one-day deal on Woot! so again, you'd better make up your mind and get it soon, as it won't last.
The TouchPad is originally running on webOS, but if you don't like the platform that is about to get open sourced soon, you can use the efforts of the CyanogenMod team and
get ICS on it
. The custom ROM got released in its early alpha version, but most of the things are working, you'd still need to wait for everything, though.