Ravenmark: Mercenaries hands-on
5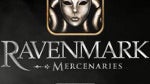 As a teenager, I spent countless hours playing on a PlayStation 1 title that's argued by many gamers as one of the greatest tactical role playing games ever – Final Fantasy Tactics. For those that followed the game, they know that the popular game got an
update last year and became available to iOS users
. However, if you simply grow tired and prefer something new that has a similar premise with its game play, then your interest might be sparked with Witching Hour's upcoming game in
Ravenmark: Mercenaries
, which is the sequel to the popular Ravenmark: Scourge of Estellion for iOS.
Not familiar with the whole
tactical turn-based role playing
category? In Ravenmark: Mercenaries, you essentially control various medieval units on a map and try to wipe out your opponent's army. Personally, I'm not too familiar with the story behind the game, but seeing it's a sequel, it will no doubt continue to extend its predecessor's medieval story ark set in the world of Eclisse. Despite my lack of know the entire back-story, I'm impressed most about the new features found with this sequel. Specifically, the
new multi-player
portion of the game!
Whereas the original title was a single player game, the good folks over at Witching Studios allows two players to play against one another – in the clouds, that is. Now, the benefit of this is that you won't have to worry about playing the game at a specific time, because you put in your commands and they'll automatically be sent to the game's servers. Essentially, your opponent can be on the other side of the world, but you can still play against them.
When it comes to the visuals, Ravenmark: Mercenaries clearly employs a cartoonish style that's definitely pleasing to the eyes with its bright colors and attention to detail. Overall, it's a kind of game that requires lots of pondering before making a move, much like playing chess. Considering the smallest move can make an impactful difference in how the tide of battle sways, there's no arguing you'll think long and hard before submitting your moves – especially against you human opponent with its new multi-player aspect. Check out our quick sneak peak below, since the game is still in development and won't be out until later in the year.