RIM set to open up to 15 premium BlackBerry stores in India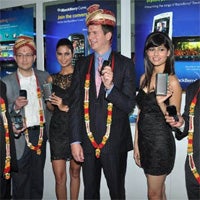 While here in the US RIM's business is often associated with the likes of the Titanic, luckily for RIM, America, while a large and important market, is not the center of the universe, nor the be-all, end-all market for any brand. With that being said, BlackBerry performs very well in several other parts of the world. Looking to capitalize on that success, RIM opened a flagship store in Dubai last month and is now looking to expand that vision by launching between 10 and 15 premium BlackBerry stores in India by the end of this year.
Last week a second store opened in Gurgaon and RIM plans to position itself at other major cities around the nation. Some of which include Mumbia, Chennai, Kolkata, Hyderabad, Ahmedabad, and Bangalore. In addition to India, RIM has already opened up its own shops in Indonesia and Thailand, which both sport hordes of BlackBerry lovers.
The BlackBerry stores target both consumer and enterprise level purchasers. Each store has an area where shoppers can try out live demos of various applications suited to their needs. Managing Director of RIM India, Sunil Dutt, describes the venue as a "
holistic consumer experience on BlackBerry consumer and enterprise services.
"
While we certainly don't expect to see a BlackBerry store in the US anytime soon, it will be interesting to see how many markets RIM feels has a subscriber base large enough to warrant a retail footprint. It will also make a nice venue to show off BlackBerry 10 in areas that it already has adoring fans in.