Push-to-Talk Plus now added to select Verizon phones
2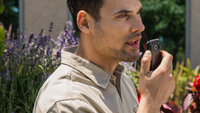 Push-to-Talk Plus is available for selected Verizon handsets. This allows users to connect to each other with the immediacy of clicking a button. Voice quality is improved and the service offers faster call set up. Your communication is encrypted for security reasons. The
Talker Priority
feature can help you cut through the chaos of a 30 person conference call. The person who initiates the call can take control so that only his or her voice is heard by the others who are involved in the conference.
If you're late to a conference call,
Late Join
allows you to join the group once you're able to be involved. And with
Rejoin
, you can drop out of a conference call, and rejoin it later. You can even use Push-to-Talk over Wi-Fi. Right now, Push-to-Talk Plus is available for the
Motorola DROID MAXX
,
Samsung Galaxy S5
, and the Casio G'zOne Commando 4G LTE. It will soon be available on the
Kyocera Brigadier
.
The service is priced at $5 a month, although those who sign up will receive the first six months on the house. When you do agree to subscribe to Push-to-Talk Plus, you will be sent an email allowing you to download and install the necessary technology on your phone.
Push-to-Talk is still a useful mode of communication, especially in the enterprise. Verizon will probably add more devices that will support the service, so if your current model doesn't enable Push-to-Talk Plus now, perhaps it eventually will.

Push-to-Talk Plus offers enhancements over regular PTT
source:
Verizon