Prototypes hint at next-gen iPhone with NFC
21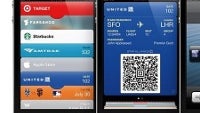 Chances are that the next iPhone is being actively prototyped somewhere at Apple's Cupertino labs and one feature that is likely to come with it is a near-field communications or NFC chip. 9to5Mac previously found out hints to a 1136x640 display in data from iPhone 5,1 and 5,2 prototypes, and now the publication also adds that a look in the hardware code dump from the two devices suggests that
NFC controllers will be included
directly into the power management unit.
This might turn out to be big news - NFC has been slow to catch up until now, but Apple's commitment to it might speed up its dynamics. This also aligns well with Apple's newly unveiled PassBook application for iOS 6.0.
Now, add to this the huge collection of credit cards signed up for iTunes and you've got the recipe for quick adoption of NFC payments. Other options could include a non-Apple payment processor like Citibank's PayPass system or others, but in either case this is a direct competitor to the Google Wallet service.
Additionally, NFC could be used for transferring data between devices that are nearby. A couple of Android devices like the Samsung Galaxy Nexus and S III came with such a feature, but only limited to a particular phone and often incompatible with other phones with NFC. For Apple, though, this could be difference as it only has the iPhone in its portfolio.