Project Ara's modules will be hot-swappable
52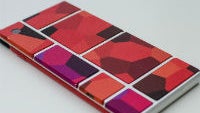 The Project Ara modular phone is becoming more and more interesting. While the news that the battery will be hot swappable certainly was good for power users who cringe at the thought of booting up after each battery swap, this capability goes even further. Project Ara director Paul Eremenko announced during a recent speech that besides the battery, the modules themselves will be hot swappable except for the CPU and the display.
You might find yourself in the middle of taking a picture when you realize that a better camera is needed for this job. So out snaps the camera module on your phone and in snaps the new one. No need to shut down the phone. No fuss, no muss.
During his speech, Eremenko also revealed that modules will be available from an online store, similar to the Google Play Store. The first Project Ara phone will be powered by a modified version of Android L. It's all shaping up to be a fascinating idea, although at this point most smartphone users are probably happy just to keep the status quo for now, anyway.
source:
Linaro
,
PHONEBLOKS
via
Engadget