Pre, Pixi not saviors as Palm spills more red ink in Q2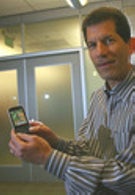 Palm reported another losing quarter as the company shipped 783,000 smartphones in the period, up 41% from last year's second quarter but off 5% sequentially from Q1. The three month period ended November 27th and profits and revenue were under Wall Street expectations. 573,000 Palm units were sold in the three months, off 29% from the first quarter and 4% below the 2008 second period. The sell-through rate gives evidence that Palm phones are not selling like hotcakes. The company lost $85.4 million in the three months compared with a loss of $508.6 million last year. The 2008 numbers are skewed by a charge for a tax provision. "We're still in the early stages of a long race," Jon Rubinstein, Palm's CEO said.
Palm's last chance at survival might depend on how well the Pre and Pixi sell on the Verizon network. With the emergence of the Motorola DROID, the nation's number one carrier finally has a device that can stand next to the iPhone and while it looked like Big Red would need the Pre earlier in the year, the excitement that once greeted the rumors of a Verizon branded Pre is now gone. All of the praise that Palm had received early in the year is now being said about Motorola and all of the analysts who jumped on the Palm bandwagon early in the year have been jumping off.
Palm Pre Specification
|
Review
Palm Pixi Specification
|
Review
source:
NYTimes