Poll results: Which Android launcher are you using?
18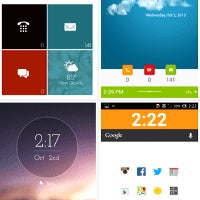 Needless to say, not everybody is satisfied with TouchWiz, Sense, Optimus, Xperia, Emotion, Vibe, Color, or the other manufacturer-supplied user interfaces that come with our handsets, so they turn to third party solutions. Android gives you the option to change the whole interface layout with the so-called "launchers". These are a comprehensive combo of homescreen and app drawer arrangements, complete with their own icon packs, notification bar design, and a smorgasbord of functions and themes that your manufacturer overlay might be lacking, like a landscape UI mode, for instance.
We recently
rounded up some of the best Android launchers
, and asked you last week which one are you using. Unsurprisingly, about 37% of our 5368 respondents say they are satisfied with whatever their handset came with out of the box, and don't bother with third-party launchers. We say unsurprisingly, since most manufacturers have been putting a lot of thought and innovative ideas into their custom Android overlays recently, realizing that they are as important as the design and hardware to differentiate the brand in the cutthroat Android universe.
Next in line, after the stock manufacturer overlay, is the mega popular NOVA launcher, which offers a sea of customization and theming options for every taste, and more than a quarter of our respondents say they have it installed on their handsets. A distant third, with 4.4%, is the group that is constantly trying out new things, and never sticking with one particular launcher for a long time (to which we have to admit we belong, too, for obvious purposes). The second and third most popular launchers amongst our respondents are two other stalwarts in the launcher business - APEX and GO, each with different strengths. Actually, if we have to be precise, the "Other" category, where the votes for the Android L, Google Now, or other stock-inspired custom launchers went, is in fact taking the third place with close to 5% of the votes, while the fourth most popular launcher is the innovative Aviate, which adapts to your place and time of the day. The rest goes mostly to smart Launcher 2, Buzz, and the
Nokia Z Launcher
, despite its short time in the Play Store.