Poll results: Do you think that the double-tap-to-wake gesture should be standard on all phones?
17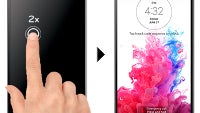 There are plenty of innovative ways to operate our ever-bigger phones with one hand, and
Samsung, LG, Sony, Apple and others have come up with their own takes on one-handed modes
. One option we find particularly useful on a day-to-day basis, though, and it is double-tapping the screen to wake the phone, or put it back to sleep. Once you try it, fumbling with the power/lock key on the sides or the back already seems too cumbersome, and we wish that every and all manufacturer implemented the double-tap gesture.
That is why we asked you last week if you think that double-tapping on the screen to wake the phone or put it to sleep should be a built-in feature of all Android handsets, or do you find the physical keys fast and convenient enough for that purpose. Surprisingly enough, the overwhelming majority of our nearly 4,000 respondents answered with yes, meaning that the gesture has made a lasting impression as one of the most convenient actions you can implement for unlocking the large screens of today's smartphones. We wholeheartedly agree, and hope that the folks behind Android will take notice, or at least that more manufacturers will be fully implementing it in their own UI overlays.