Polaroid iM1836 hands-on
8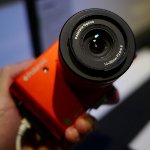 Very recently, Samsung introduced to us one peculiar device of late that's more camera-centric than smartphone. As we've seen with the
Samsung Galaxy Camera
, it's a super zoom camera with the full backing of the Android platform. As much as it has a big advantage over other smartphones, hardened camera owners might still not be convinced by it. For those yearning for something more comprehensive, the
Polaroid iM1836
aims to please those individuals, since it's dubbed as the
world's first Android camera with an interchangeable lens
.
Even with a cursory glance, the Polaroid iM1836 is undoubtedly donning a camera design more than anything else – well, it's actually much like the many micro four-thirds camera systems out there. Splashed with what looks like a red metallic body, which is actually plastic, it really feels like a solid thing with its overall construction. And with its choice of materials, it translates over to one pretty lightweight camera. Even better than that, it's not as bulky or massive like other full DSLR offerings. Simply, it's a camera first and foremost, as it's sporting various dials, a flash, and connection ports shared by many other cameras.
Unfortunately, the unit we were checking out wasn't cooperating with the software – or maybe someone didn't charge its battery enough? Regardless of that, the Polaroid iM1836 features a 3.5-inch display, Android 4.1 Jelly Bean, 18-megapixel camera sensor, 1080p video recording, 10-30mm lens, and Wi-Fi. Obviously, it's pretty neat that this can use a variety of lens, which of course adheres to the requirements of photo buffs. On top of that, when you factor in its
$399 price point
, it's surely something that boasts a whole lot of versatility taking into account how it's Android with all the extensive set of functionality of a fully equipped camera.