Pic Perfect app for Android makes it easy to compare image quality side by side
4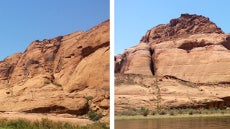 Want to quickly compare an HDR photo with a regular one on your Android device? Judge for the quality of pictures taken with several camera modes, or coming from different albums?
The Pic Perfect app for Android allows you to do just that, in an easy side-by-side layout. This application helps you locate the best image out of any set you choose, by showing you two at a time. Not only that, but after you've found the best shot, you can move, copy, delete, or share it directly from the app's interface. Pic Perfect aims to avoid the constant back and forth in the gallery that occurs when you need to compare multiple pictures, as it lets you zoom into one and the same section of two snaps at a time.
There are two viewing modes - Quick and Complete. The rapid one can be used for a series of almost-the-same pictures, like the ones you take with your phone's burst camera mode. The app will automatically narrow down the resulting set, until you find the scene that you are looking for. The so-called Complete Mode is for when you have a number of unrelated pictures - Pic Perfect won't be narrowing down anything in that case, but rather go through each image individually, comparing two at a time for your viewing pleasure.
| | |
| --- | --- |
| Developer: Sufficiently Advanced Apps | Download: Android |
| Category: Photography | Price: Free |