Phonekerchief blocks cell signals when you need privacy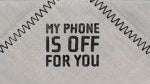 Everyone has that friend or family member that just won't put down their phone. Or maybe
you
are that person. We, more than most, understand the need to compulsively check messages and respond to emails, but there are limits. The Phonekerchief, available exclusively from Uncommon Goods for US$15, will block a cell phone's signal, allowing you to give your full attention.
The Phonekerchief features a so-called 'smart material,' which is really just
silver threads
incorporated into the nylon fabric. These will supposedly block all radio signal, but we have our doubts. We imagine it's more of a gag-gift that you can use to introduce a smartphone intervention.
Our first thought was "can't you just turn off the radio?," but that wouldn't be as poetic. The Phonekerchief prominently features the message, "My phone is off for you." That way your companions will know that you've pushed back your busy tweeting schedule to put in a little face-time.
Parents might find the Phonekerchief useful as a clandestine
parenting
tool. Simply line your child's pockets with the Phonekerchief, and you won't have to worry about them tuning in and out of your conversations. But then they might not get
your
calls, either.
source:
UncommonGoods
via
IntoMobile