Latest study shows that teens spend their nights... texting
4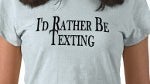 "Don't blame the youth" is youth's favourite saying, but some people just never take notice and keep on doing it. One of these guys are the researchers from JFK Medical Center, in Edison, N.J. According to them, teens send an average of 34 texts a night (adding up to the total number of 3,400 messages sent per month) after going to bed – a fact that the researchers don't find particularly charming.
"Bedtime is bedtime and lights out."
, they say but their own research proves that things are rather different.
The study indicates that boys are more inclined toward games and surfing the web, while girls enjoy sleeping with their phones right beside their heads and sending lots of texts every night. While these activities are not wrong by themselves, this JFK Medical Center's research shows some not so wanted consequences. One of it, as pointed out by previous researches from Nielsen and Kaiser, is that teens prefer texting rather than actual contact with their family members. Another is that half of the kids who enjoy playing with their electronic devices at night suffer from nasty issues like mood and cognitive problems, anxiety, depression and so on. The study goes on to say that getting awake at night to answer a message or ten may lead to unpleasant problems later in life.
The study ends with the following advice toward the parents made by Mary A. Carskadon, director of chronobiology/sleep research at the E.P. Bradley Hospital :
"Get a locked strongbox, and put all phones and blackberries there until morning."
We are sure that this will make the teens talk (or rather shout) to their parents, but we have our doubts that it would be for the right reason. Since we're all youths here at PhoneArena, it just doesn't feel like us to point the finger at them-nasty-teens. That would be hypocritical, since the days when we used to stay awake at night to play computer games with our friends or take a glance at the NY Times before going to bed are not entirely in the past.
source:
MSN
Recommended Stories